Cycling vacations in Carinthia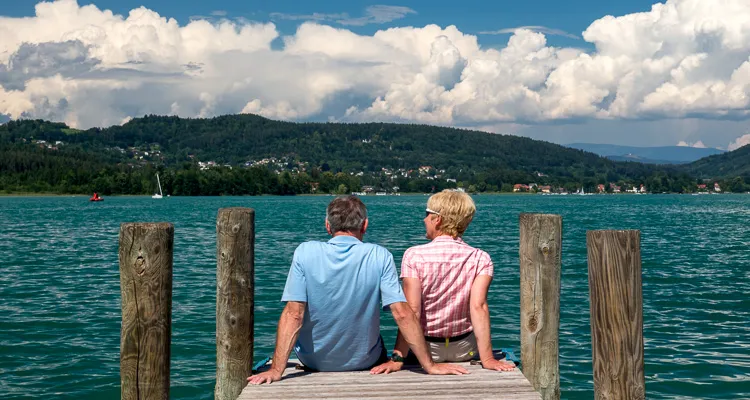 On a cycling vacation in Carinthia, you will get to know the southernmost province of Austria. In addition to numerous high mountains such as the Großglockner, Carinthia also impresses with a pleasantly temperate climate, medieval castles, lush vineyards and an immense number of lakes, some sophisticated, others idyllic and dreamy. You should always have your swimming trunks at hand when you head for the shores of Wörthersee, Klopeiner See, Millstättersee, Weißensee, Pressegger See and Faaker See. Klagenfurt is the capital of the province and is not stingy with charms. Small towns like Villach, Spittal an der Drau or Gmünt are definitely worth a visit.
The mountain and lake world on our cycling vacations in Carinthia inspires not only families, but also cyclists with great ambition. So cyclists of any level of ambition will find what they are looking for on cycling vacations in Carinthia: there is something for everyone on routes such as the Drava Cycle Path, the Five Lakes Circuit or the Alpe-Adria Cycle Path. What all cycling vacations in Carinthia have in common is that the scenery is always magnificent, the people friendly and the food fabulous.
Show more
Show less
The Carinthian lakes are among the warmest bodies of water in the entire Alpine region and each one has its own special character. The cycle tour around the Carinthian lakes takes you to the shores of Lake Faak, Lake Klopein, Maltschacher See, Lake Ossiach and to Austria's most popular lake, Wörthersee. Majestic castle ruins and castles line the way, giving a glimpse of the region's rich history.
The Drava cycling holiday takes you to the sunny south of Austria, to the province of Carinthia. You follow the course of the river mostly along the bank and can enjoy the view of the mountain peaks of the Dolomites and the Karawanken in a very relaxed way.
Show more
Show less