Cycling holidays on Lake Garda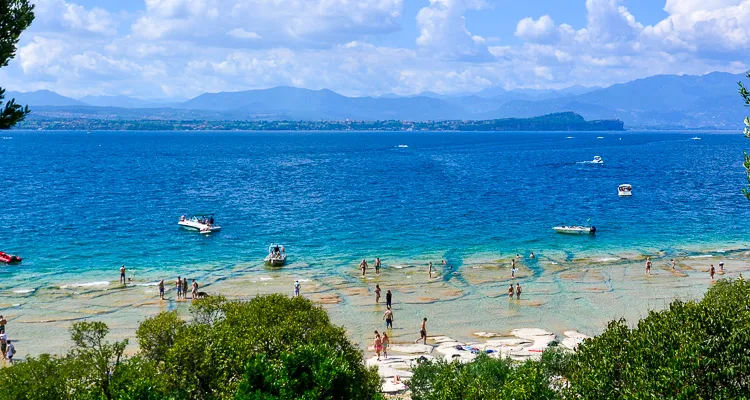 Crystal clear water that glitters in the sun, lofty mountains all around - that's the perfect backdrop for a cycling holiday on Lake Garda. Italy's largest lake is between the Alps and the Adriatic. The mild climate ensures that during both the summer and the cooler seasons of the year, it's great exploring the area here by bike. You cycle mostly along quiet side roads through wonderful countryside and passing vineyards and olive groves. The roads are lined with palms and cypresses. Refresh yourself in the blue-green water of Lake Garda, in a quiet bay. You cycle past picturesque harbours and busy market places. Look forward to exploring your new destination each day. A pretty little town with quiet windy streets, perfect for a relaxing evening over wine and pasta. Or art and culture in the well-known towns of Verona and its famous opera house.
Show more
Show less
A cycling holiday without having to pack your luggage each day - this is what's in store on our star tour on Lake Garda. Discover this wonderful region around Italy's biggest lake on daily cycle rides. Your trips by bike take you into the popular towns of Trient and Verona, for example. On your tours, enjoy the impressive landscape, always accompanied by the glitter water of Lake Garda and the wonderful mountain panorama.
See two of Italy's areas on your cycling holiday from Meran to Lake Garda. It begins in the breath-taking mountain scenery of South Tyrol. After a trip to Vinschgau the tour takes you along the Etsch cycle path passing Bolzano and Trient. At Rovereto, you leave the Etsch river and soon reach your destination. Italy's biggest lake - Lake Garda.
Do you prefer a more athletic holiday? Then cycle along the longer section of the Etsch cycle path from Bolzano to the city of lagoons, Venice. On this varied cycling holiday you will see the wonderful countryside of South Tyrol, the unbelievable flair of the ancient towns of Verona, Vicenza, and to crown it all Venice - the pearl of the Adriatic.
Discover wonderful Lake Garda on our cycling holidays. Individual and convenient - luggage service included.
On a cycling holiday on Lake Garda, experience a varied cycling holiday on the different available tours. Plan your holiday heading either for South Tyrol or the Adriatic. Or become acquainted with the area around Lake Garda on daily cycle rides. Everyone is certain to find the right cycling holiday on Lake Garda.
Show more
Show less