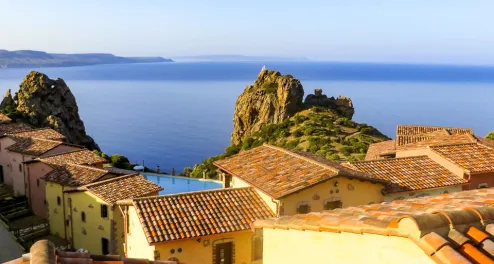 Cycling Holiday on Sardinia
Small villages and turquoise sea
Mandas – Sant'Antioco – Pula
White beaches, vineyards and olive groves, archaeological traces from the Bronze Age and antiquity
Daily routes ●●●○○
Altitude profile ●●●●○
A cycling holiday on Sardinia lets you explore picturesque landscapes! After Sicily, it is the largest Mediterranean island. Its inhabitants fought Spanish oppression for 400 years. Some Spanish watchtowers still stand on top of the tall, jagged cliffs, dating back to this time. Unique archaeological findings can be found in the valleys and oak forests. Only a stone's throw from the busy capital Cagliari, Sardinia is quiet and tranquil. Explore ancient villages, surrounded by pine forests and olive groves and enjoy views of the impossibly blue sea. Sample delicious wines directly from the vineyard, and buy regional meat and cheese delicacies from the local farm shop. Listen to the sound of the sea and the wind rustling through the olive trees. Feel the Sardinian sunshine on your skin and smell the scent of Mediterranean herbs. This is a bicycle holiday that stimulates all senses!
Itinerary
Booking Code
IT-SAMP7
Start / Destination
Mandas / Pula
Duration
8 days / 7 nights
Length
approx. 300 km
Daily routes ●●●○○
between 40 and 65 km, Ø 55 km
Altitude profile ●●●●○
Day 1: Individual arrival in Mandas
Mandas is a busy small town in the heart of the Marmilla agricultural region of Sardinia. It was inhabited since Nuragic times but became important during the medieval period. Now a bustling town, it is an ideal starting point for your cycling holiday.
Day 2: Mandas – Sardara, approx. 50 km
You will cycle slightly downhill into the Marmilla region – a wonderful start to your cycling holiday. This area is generally flat and has been the centre of grain, wine and olive cultivation on the island since the Roman times. Every now and then you will see giare: the table mountains steeply rise from the surrounding countryside, which was shaped by volcanic activity. Wild horses live on the Giara di Gesturi, the most famous of the plateaus. The small villages Tuili and Barumini are located directly beneath this elevation. In Barumini you should visit Sardinia's largest and best-preserved Nuragic fortess. Su Nuraxi consists of a main tower and a diamond shaped bastion with four towers at its corners. A wall with seven additional towers forms its external borders. The architects were true masters of their trade and Su Nuraxi is Sardinia's only world heritage site. When cycling past Santa Maria church, you should definitely take a look at the unique rose-shaped windows. Today's next highlight is the Castello di Marmilla. The castle was built as a border fort between Arborea and Cagliari on a volcanic cone and dates back to the 12th century. You carry on your cycling towards Collinas (which means hill!) and then descend to Sardara. This town has been important since Nuragic times for its water. In the centre of town, you can visit the "Sacred Well" next to St Anastasia church. Not far from the town centre, Sardara Thermal water area was known since Roman times and here is your acommondation for the night, where you can enjoy the hot water pools.
Day 3: Sardara – Arbus, approx. 40 km
Today you will cross the Campidano plain, the largest plain in Sardinia. This area is very fertile and important for agriculture as fruit, vegetables, grains and wine are cultivated here. Leaving Sardara you cycle across the Campidano to Pabillonis. Pabillonis, which is known for the production of Saffron and then reach Gonnosfanadiga. Sardinia's best olive oil is produced in this town beneath the rocky foothills of the Iglesiente region. Take a break here and have some lunch as the following stage will be more hilly. Today's destination is Arbus, where you will spend the night at an Agriturismo, which is best translated as holiday on a farm – just much more Italian. Smaller farms which struggle to remain profitable through agriculture alone offer rooms for travellers and offer their products to their guests. Here you can sample local delicacies: Homemade ravioli, sausages, cheese, olive oil and wine let you experience the true Italian dolce vita. 
Day 4: Arbus – Nebida, approx. 50 km
What else could you want from a bicycle holiday in Sardinia after yesterday's stage? This journey holds plenty more exciting experiences! The day begins with a relaxing descent: You will cycle gently downhill for about 15 kilometres, while enjoying the phenomenal views of the mountains around you. In Portixeddu you reach a long sandy beach where you can take a break and go for a refreshing dip in the sea. Even though you will find a bar and restaurant directly on the beach here, you should have your lunch in Buggeru, which is located slightly further south. The village was once a thriving mining village. Luckily it is located on the coast and can generate income through fishing and tourism. Sample freshly caught fish at one of the restaurants at the small idyllic harbour. You will then cycle further along a coastal road. Masua has countless bays with sandy beaches and mysterious grottoes. The 133 metre high Pan di Zucchero will surely catch your eye. The name translates as sugar bread, as the tip of the rock appears to be sprinkled in white sugar. You are close to Nebida now. This village also used to be a mining village. Today it is a unique holiday resort: The Belvedere of Nebida is a circular trail around a large rock, offering panoramic views of the Pan di Zucchero, the sea and the surrounding countryside. Here you can experience spectacular sunsets!
Day 5: Nebida – Island Sant'Antioco, approx. 45 km + Ferry
The day starts with a bicycle tour south along the coast. Soon the rugged sandstone coast is replaced by flatter terrain. On the ferry to the island of San Pietro you can rest your legs. Carloforte, which was founded by coral fishermen from Genua, is the only inhabited community on the island. Genua's influence is still obvious in the architecture and cuisine of the island. Stroll through the narrow alleys and take in the pastel-coloured houses, built in the Ligurian style. The island was long known for fishing, in particular for tuna. Today, many of the restaurants still offer freshly-caught fish. The landscape on the island is unique: the steep rugged coast, white sandy beaches, hidden bathing bays and untouched nature – San Pietro is a real insider's tip on your bicycle holiday in Sardinia. Now another ferry will take you to the neighbouring island of Sant'Antioco. A majestic castle thrones above the island's main town, which is also called Sant'Antioco. There is an extensive catacomb network below the city, which can be visited as part of a guided tour. The beautiful beaches and rocky bays are ideal for a relaxing break.
Day 6: Island Sant'Antioco – Teulada, approx. 65 km
You will leave the island via an artificial dam. On your way to Tratalias you will cycle through a fertile region with softly rolling hills. The village Tratalias had its heyday in the middle ages. Between the 13th century and the beginning of the 16th century it was an episcopal see. It took another 300 years for people to settle there again. However, the village was flooded many times after a reservoir was constructed in the nearby hills in 1954. Due to the flooding, the hygienic situation almost escalated in the 1970s. Therefore, the entire village was moved up to a nearby slope. The original village is abandoned, but still well preserved. The medieval town centre was lovingly restored and opened to the public. Today it is a wonderful open-air museum. Afterwards you will cycle from vineyard to vineyard through a beautiful landscape. We recommend taking a break at the Cantina di Santadi and sampling the excellent wines. Only five kilometres further south you can find the karst caves of Is Zuddas. A miniature landscape with houses, bridges and rivers was built in the dripstone cave. During the festive season it is decorated as a Christmas nativity scene. The road now winds south all the way to Teulada with breath-taking views.
Day 7: Teulada – Pula, approx. 50 km
The village of Teulada is located at the foot of a bare mountain landscape, in the lush green valley of the Riu de Monti. Along this stretch of coast you will find breathtakingly beautiful beaches and countless bays. Don't linger too long, as there is still much to see on your bicycle holiday. On your journey along the Costa del Sud the landscape is one of the main attractions. The road winds above rugged and steep cliffs, which dip straight into the deep-blue ocean. You will have countless opportunities to take a break – either at one of the many viewpoints, or in one of the sandy bays. Don't miss the Cala Tuerredda, which is one of Sardinia's most beautiful beaches: it offers golden sand, emerald green sea and is enclosed by two headlands – you will feel like you've arrived in paradise. Only a few kilometres further you can take a short detour to the tower of Chia. From here you will have a spectacular view of Chia's long beach and its surroundings. Now you will cycle along the coast road to Pula, where you will have to pedal hard one last time. At Pula's market square you can refresh yourself with a homemade ice cream.
Day 8: Individual departure
We're sure you had a wonderful last evening on your cycling holiday on Sardinia. On a stroll across the Piazza del Popolo and in the countless bars you were able to experience the Sardinian charm to its fullest. Take the Italian dolce vita home with you – this will make your return to everyday life much easier.
Show more
Show less
Dates / prices / services
Season C
01.06. - 30.06.
01.09. - 30.09.
Additional Services
Additional bookable services
| | |
| --- | --- |
| Additional fee single room | |
| Extra package (transfers Cagliari airport – Mandas and Pula – Cagliari airport excl. bike, 3 dinners) | |
All prices are per person
Rental Bikes
Rental Bikes

Rental Bike
109 €

E-Bike
219 €
Brief Information
Booking Code
IT-SAMP7
Start / Destination
Mandas / Pula
Duration
8 days / 7 nights
Length
approx. 300 km
Daily routes ●●●○○
between 40 and 65 km, Ø 55 km
Altitude profile ●●●●○
Route condition
Mostly on paved roads, seldom on earth roads.
Difficulty level
There are rolling hills as well as plain sections. Along the coast you cycle more up and downhill. There are some longer and steeper inclines.
Minimum number of participants
2 persons
Tour operated by
Local cooperation partner
Mobility note
This holiday is suitable to only a limited extent for people with restricted mobility.
Please contact us if you have individual requirements.