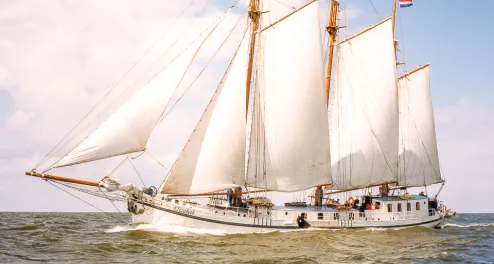 Bike and Sail in Holland
On the three-masted clipper Elizabeth
Amsterdam – Enkhuizen – Amsterdam
The windmill De Krijgsman, National park Weerribben-Wieden
Daily routes ●●○○○
Altitude profile ●○○○○
Full board
Bike & Sail: Three-masted clipper Elizabeth
The wind fills out the white sail over your heads and the waves of the IJsselmeer rush past while you look forward to your next holiday in cyclists' paradise – Holland! By bike you explore beautiful landscapes and former maritime towns like Enkhuizen and Hoorn as well as Frisia's oldest town, Stavoren. You sail on the three-masted clipper Elizabeth on the IJsselmeer in North Holland. If you want, you can help out on the boat setting the sail; get a whiff of the adventure of the life of a sailor. You don't need any previous experience: The crew is happy to let you in on the secrets of a seafarer.
Itinerary
Booking Code
NL-NHSAA-08I
Start / Destination
Amsterdam
Duration
8 days / 7 nights
Length
approx. 180 – 220 km
Daily routes ●●○○○
between 10 and 55 km, Ø 35 km
Altitude profile ●○○○○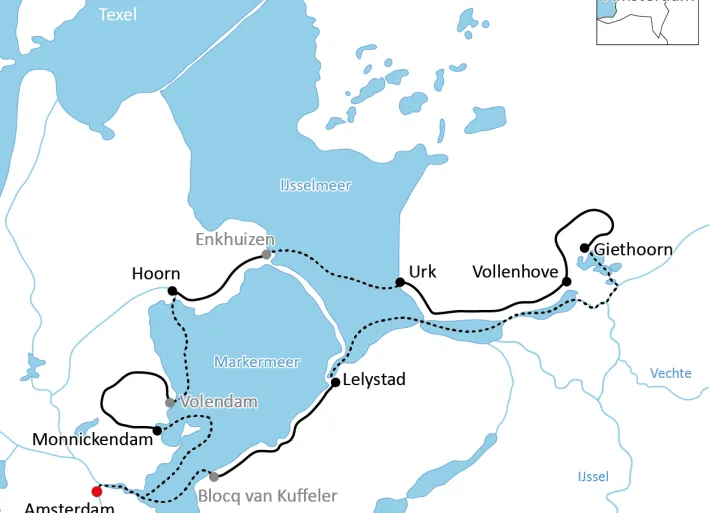 The three-masted clipper Elizabeth
Sailing majestically across Lake Yssel on the Elizabeth is a wonderful adventure! She was launched in 1913 as a typical Dutch flatboat. Over one hundred years later, this three-masted schooner is stylish, comfortable and luxuriously fitted. If you want, you can help set the sail! If not, there's always a nice place to be found on the sundeck or in the spacious saloon.
Show more
Show less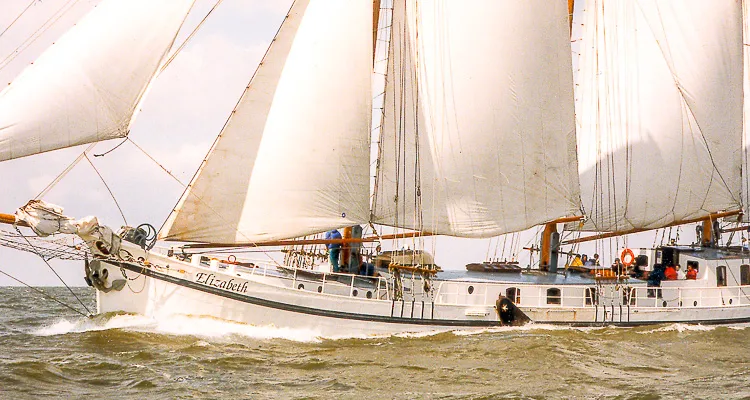 Day 1: Individual arrival in Amsterdam, Amsterdam – Monnickendam, approx. 10 km
After your arrival in Amsterdam the crew will be waiting for you between 13.00 and 14.00 on board your boat. Once all of the guests are on board, it's time to set sail and you set off in the afternoon on your bike and sail holiday in Holland to Monnickendam. Next, you set off on your first bike tour to explore Waterland nature reserve.
Day 2: Monnickendam – Volendam, approx. 30 / 50 km, Volendam – Hoorn (boat)
Today couldn't be more traditionally Dutch! First you pedal off to a family-run business for a short demonstration of how they make cheese and clogs! Next, you cycle to the small village of Purmerend, which is 3.5 metres below sea level. The next stop is Edam, known all over the world for its cheese, which has a coat of red wax. Your boat awaits you in Volendam. Here you have enough time to explore this traditional fishing village. Your boat doesn't leave the harbour for Hoorn until late in the evening.
Day 3: Hoorn – Enkhuizen, approx. 30 / 40 km, Enkhuizen – Urk (boat)
After breakfast you leave the boat to cycle at a leisurely pace through the pretty countryside village and hamlets. You pass northern Holland's tallest windmill. Did you know that it is still used today to produce flour? The destination of today's cycle ride on your bike and sail holiday in Holland is Enkhuizen. Thanks to the harbour, this town, which is over 1000 years old, was one of the richest town's in Holland. It was here that boats from Asia unloaded their holds full of expensive spices. Stately town residences, churches and the town fortifications are witnesses to the town's former riches. In the afternoon you cross the IJsselmeer and sail to Urk, a traditional fishing village.
Day 4: Urk – Vollenhove, approx. 35 km
After breakfast, first you leave IJsselmeer and cycle east. Today, you're cycling along a tongue of the IJsselmeer, called Ketelmeer, to the former island of Schokland, which used to be surrounded by Zuiderzee. Erosion threatened the island and in the 19th century, the last inhabitants left Schokland, which, as a result of land reclamation is now entirely surrounded by the mainland. Many ancestors of island residents still bear the name Schokker. You cycle on along the former coastline of Zuiderzee. At today's destination, the charming town of Vollenhove, you might meet some Schokkers!
Day 5: Vollenhove – Giethorn, approx. 40 / 50 km
In the morning, you cycle to the small town of Blokzijl, which is where Weerribben-Wieden national park begins. Lakes, meadows and marsh forests compete for your attention in this, the largest peat bog in north western Europe. It is an important habitat for many species of animals and plants. With a bit of luck you might spot an otter at work. Pedal on through fields surrounded by dykes to Zwartsluis.
Day 6: Giethorn – Lelystad (boat)
Today your feet won't be pushing pedals, instead you sail to the town of Lelystad in a sailing boat! If you want, you can help the captain hiss the sales on IJsselmeer or simply relax on deck. When you get to Lelystad you can see, by example of the Batavia, what sailing boats looked like in the 17th century. The real East Indies sailing ship sank in 1629 off Australia. A reproduction of the ship was built in the local Batavia shipyard and can be visited.
Day 7: Lelystad – Blocq van Kuffeler, approx. 20 / 30 km, Blocq van Kuffeler – Amsterdam (boat)
Today, the last section of your Bike & Sail holiday around IJsselmeer is paradise! The paths wind through sometimes wooded areas, to open out giving you expansive panoramic views of the marshland. Take a minute to watch the birds that have settled here. At a leisurely pace, you cycle back to the boat and then sail to the harbour in Amsterdam.
Day 8: Individual departure
After breakfast, your bike and sail holiday in Holland unfortunately comes to an end. We hope you have a good journey home!
Show more
Show less
Dates / prices / services
Services
7 overnight stays on board
Full board (7 x breakfast, 6 x packed lunch, 7 x dinner)
Coffee and tea daily until 4 pm
Welcome drink
Bed linen and towels supplied
Cleaning of cabins once a week
Daily routing discussion, on-board tour guide
GPS tracks available on request
Cycle route description with maps (1 x per cabin)
7 day Service Hotline
Show more
Show less
| Child reduction on basic price | | |
| --- | --- | --- |
| discount-icon discount-icon-football | | |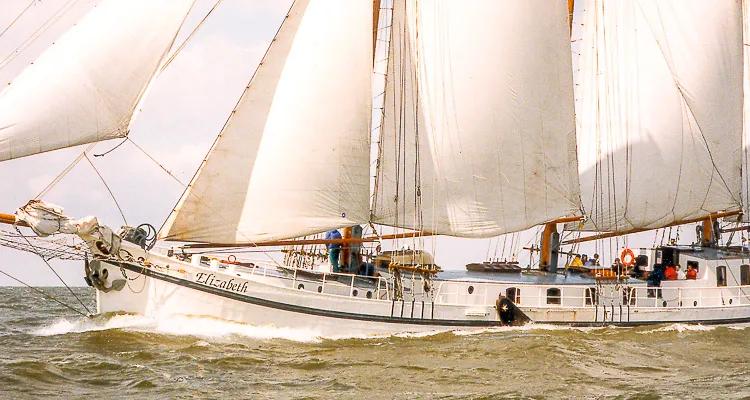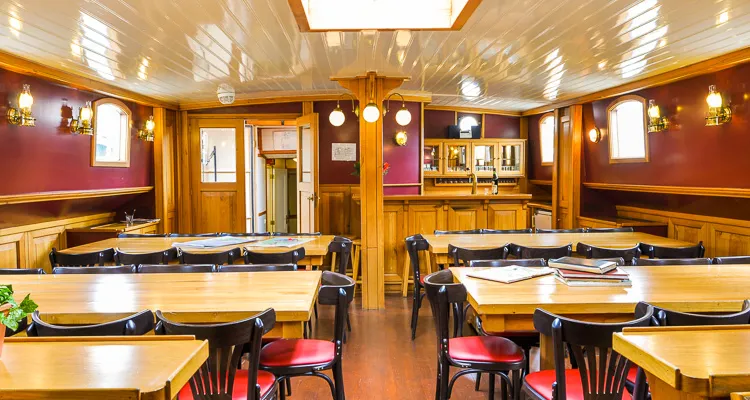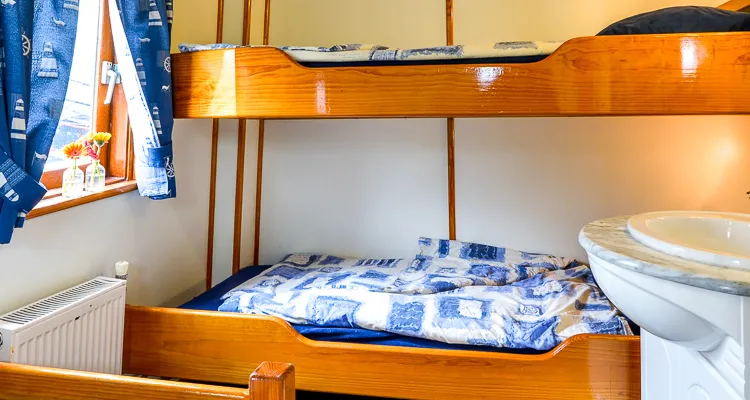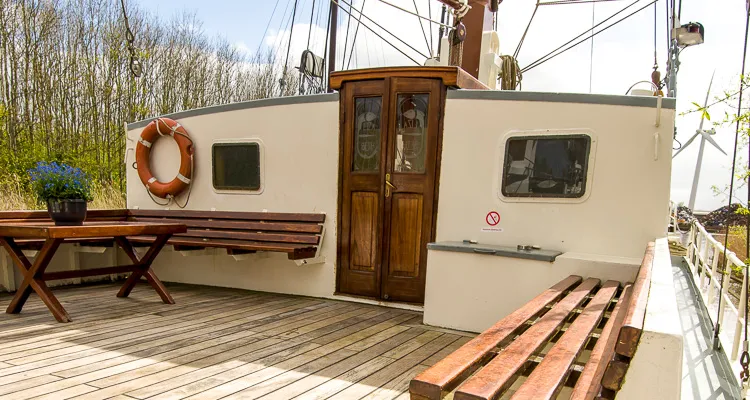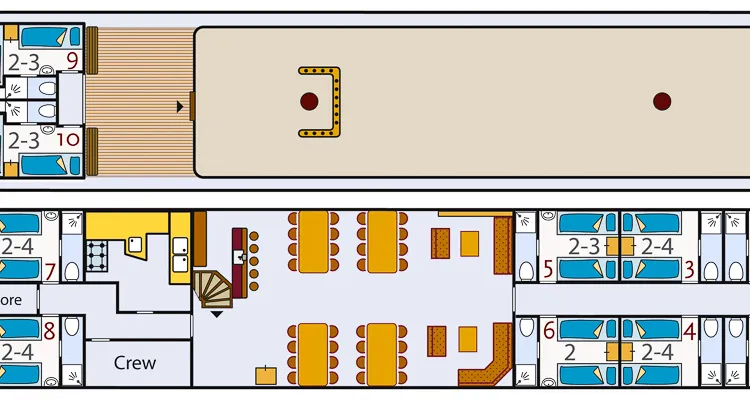 MS Elizabeth
10 cabins
Fittings: Shower / WC, two single beds (next to each other)
Lower deck: 8 cabins
Upper deck: 2 cabins
Three- and four-bed cabins possible, additional beds above
Boat facts
Built in 1913
Latest renovations in 2014 / 2015
2 passenger decks | 10 cabins
Maximum capacity: 35 passengers
Length: 41 m
width: 6.9 m
Fittings: Large saloon with bar and lounge, sun deck
Languages on board: German, English, Dutch
Show more
Show less
Additional Services
Additional bookable services
| | |
| --- | --- |
| Surcharge for single use of double cabin | |
All prices are per person
Rental Bikes
Rental Bikes

Rental Bike
75 €

E-Bike
175 €
Brief Information
Booking Code
NL-NHSAA-08I
Start / Destination
Amsterdam
Duration
8 days / 7 nights
Length
approx. 180 – 220 km
Daily routes ●●○○○
between 10 and 50 km, Ø 35 km
Altitude profile ●○○○○
Parking information
There is a number of public car parks close to the pier which can't be reserved in advance.
Valet Parking: Your car is picked up from the boat on your day of arrival and taken to a covered, secure car park. On your day of departure it is brought back to the boat. Costs approx. 150 € per week.
Please always drive to the boat first to hand in your luggage before parking.
Minimum number of participants
No minimum number of participants
Changes to boat trips due to weather, water levels or technical conditions are possible; we reserve the right to make changes.
Note
For this tour only the arrival and departure harbours are definite destinations.
The itinerary is very much dependent on weather and tides and is decided upon on a daily basis. The shown itinerary is only a suggestion and is subject to change.
Tour operated by
Local cooperation partner
Mobility note
This holiday is suitable to only a limited extent for people with restricted mobility.
Please contact us if you have individual requirements.